Vebenabos - VZ1128 - Bungalow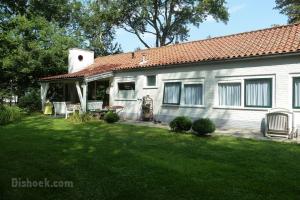 This detached holiday home is located in a wooded and small-scale holiday park. The holiday home is a perfect holiday home to enjoy with the whole family. The small-scale and wooded holiday park which is located directly on the dunes. Dishoek beach is just steps away! Vlissingen is a short cycling distance and the cozy Dishoek is only a few minutes' walk away. This attractive and modern holiday home is really a wonderful holiday home in the wooded and small-scale holiday park Vebenabos. Due to its location, the holiday bungalow offers a lot of privacy. You can really enjoy the large green garden. Your pet is very welcome in this house.Koudekerke-Dishoek is a pleasant village with some nice restaurants and the short distances to the neighboring villages and towns make it an ideal location for cycling and exploring the area. If you want to enjoy a wonderful beach holiday at the North Sea beach, you should definitely rent this 6-person holiday home in Koudekerke, you are guaranteed a wonderful holiday.
Ferienhaus für 6 Personen in Koudekerke
For information and reservation
Search & Book
Vebenabos, Koudekerke
tel. +31 118 744 025
web.
More information