Westduin - VZ1120 - Bungalow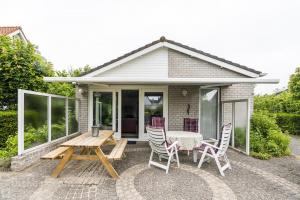 Are you looking for a holiday accommodation in Zeeland with lots of privacy? Then look no further! This semi-detached holiday home on a small-scale holiday park near Vlissingen has a large (lockable) paved garden with lots of privacy. Due to its location directly on the dunes you are on the beach within a few minutes! If that is not an ideal beach experience!The small-scale and child-friendly holiday park is located directly at the foot of the dune. The beach is just steps away! Vlissingen is a short cycling distance and the cozy Dishoek is only a few minutes' walk away. Because the holiday park is car-free, the children can play in the garden and on the street. The large playground with playground equipment is a real addition to the small-scale family park for young and old.The mattresses and pillows in this holiday home have protective covers. These covers with a special coating are particularly hygienic, breathable and protective due to their antibacterial and anti-allergic effect.
6-person holiday bungalow in Vlissingen
For information and reservation
Search & Book
Westduin, Vlissingen
tel. +31 118 744 025
web.
More information