Zeeotter 102 - Chalet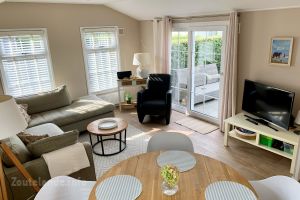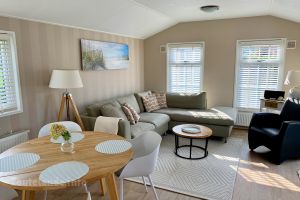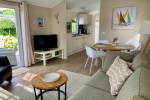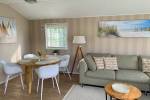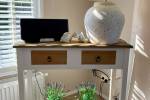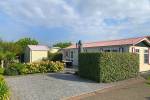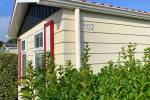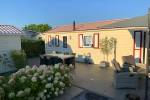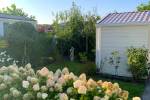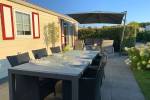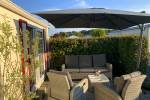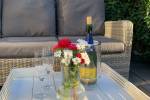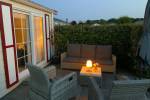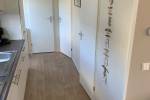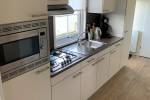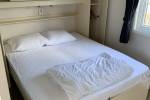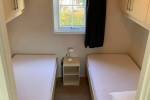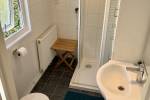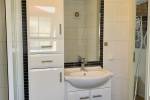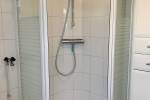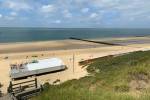 At the beach campsite Valkenisse in Groot-Valkenisse, south of the resort Zoutelande, we rent our newly modernized 4-person chalet, Zeeotter 102. It consists of 2 bedrooms, bathroom, kitchen, living room + TV, large southwest terrace and garden. The chalet is quiet located just behind the dunes and is only 350 m from the unique beach.

The bedroom has a double bed (1.60 m x 2m), several built-in wardrobes and a wardrobe. (With space for a baby crib). The 2nd bedroom is equipped with 2 single beds (0,8m x 2m).
The kitchen offers among other things a fridge-freezer and a microwave-grill combination a great comfort.
Through the living room and a sliding door you reach the large southwest terrace. There is a modern lounge set with space for 5 people, a large extendable and rotatable parasol, an extendable windbreak and a dining table that seats 6 people. The lovingly landscaped garden completes the offer.
The car can be parked directly at the chalet on a spacious parking lot.

Our chalet offers everything you need for your perfect beach vacation:
Comfort, direct proximity to the beach, the sound of the sea and relaxation!
For information and reservation
Fam. Hartmann
mail.
E-mail
Characteristics
Price indication: €76,00 to €142,00 per night.
Max. 4 personen.

Bedrooms: 2.
Bedden: 4.
Bathrooms: 1.

Floor space: ±44 m².
Pets not allowed.
No smoking.
Kitchen
Refrigerator.
Freezer compartment.
Coffee machine.
Water boiler.
Toaster.
Citrus press.
Oven.
Microwave.
Combi microwave.
Media
Wi-Fi internet.
TV.
Foreign TV channels.
Radio.
Outside
Garden.
Terrace.
Garden furniture.
Lounge set.
Car parking place.
Bicycle storage.
Storage room.
BBQ.
Location
Distance to the beach: ±350 m.
On holiday park.
By the sea.
At lake.
Detached.
Occupancy rate
October 2022
39
1
2
40
3
4
5
6
7
8
9
41
10
11
12
13
14
15
16
42
17
18
19
20
21
22
23
43
24
25
26
27
28
29
30
44
31
November 2022
44
1
2
3
4
5
6
45
7
8
9
10
11
12
13
46
14
15
16
17
18
19
20
47
21
22
23
24
25
26
27
48
28
29
30
December 2022
48
1
2
3
4
49
5
6
7
8
9
10
11
50
12
13
14
15
16
17
18
51
19
20
21
22
23
24
25
52
26
27
28
29
30
31
January 2023
52
1
01
2
3
4
5
6
7
8
02
9
10
11
12
13
14
15
03
16
17
18
19
20
21
22
04
23
24
25
26
27
28
29
05
30
31
February 2023
05
1
2
3
4
5
06
6
7
8
9
10
11
12
07
13
14
15
16
17
18
19
08
20
21
22
23
24
25
26
09
27
28
March 2023
09
1
2
3
4
5
10
6
7
8
9
10
11
12
11
13
14
15
16
17
18
19
12
20
21
22
23
24
25
26
13
27
28
29
30
31
April 2023
13
1
2
14
3
4
5
6
7
8
9
15
10
11
12
13
14
15
16
16
17
18
19
20
21
22
23
17
24
25
26
27
28
29
30
May 2023
18
1
2
3
4
5
6
7
19
8
9
10
11
12
13
14
20
15
16
17
18
19
20
21
21
22
23
24
25
26
27
28
22
29
30
31
June 2023
22
1
2
3
4
23
5
6
7
8
9
10
11
24
12
13
14
15
16
17
18
25
19
20
21
22
23
24
25
26
26
27
28
29
30
July 2023
26
1
2
27
3
4
5
6
7
8
9
28
10
11
12
13
14
15
16
29
17
18
19
20
21
22
23
30
24
25
26
27
28
29
30
31
31
August 2023
31
1
2
3
4
5
6
32
7
8
9
10
11
12
13
33
14
15
16
17
18
19
20
34
21
22
23
24
25
26
27
35
28
29
30
31
September 2023
35
1
2
3
36
4
5
6
7
8
9
10
37
11
12
13
14
15
16
17
38
18
19
20
21
22
23
24
39
25
26
27
28
29
30
October 2023
39
1
40
2
3
4
5
6
7
8
41
9
10
11
12
13
14
15
42
16
17
18
19
20
21
22
43
23
24
25
26
27
28
29
44
30
31
November 2023
44
1
2
3
4
5
45
6
7
8
9
10
11
12
46
13
14
15
16
17
18
19
47
20
21
22
23
24
25
26
48
27
28
29
30
December 2023
48
1
2
3
49
4
5
6
7
8
9
10
50
11
12
13
14
15
16
17
51
18
19
20
21
22
23
24
52
25
26
27
28
29
30
31
January 2024
01
1
2
3
4
5
6
7
02
8
9
10
11
12
13
14
03
15
16
17
18
19
20
21
04
22
23
24
25
26
27
28
05
29
30
31
Location