Lighthouses of Kaapduinen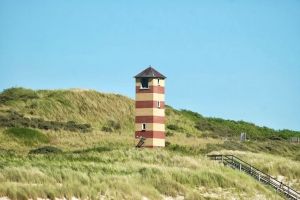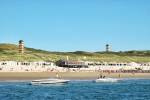 The lighthouses of Kaapduinen are two lighthouse structures near Dishoek. The two lighthouses together form a light line in northwestern direction to guide ships safely through the channel. The lighthouse structures bear the names 'Kaapduinen Hoog' and 'Kaapduinen Laag'.
The light line intersects with the one of the lighthouse Zoutelande with Westkapelle Hoog.
Characteristic
Name:Kaapduinen Hoog and Laag
Built:1951
Tower height:12,6 m en 13,8 m
Light height (above sea level):35,0 m en 26,0 m
Manned:No
Open to the public:No
Furthermore Lighthouses of Kaapduinen is near the following sights: Bunker complex Dishoek (±150 m), Toeristenkerk Dishoek (±350 m), Manege de Zwaanhoek (±1,0 km), Avonturenpark Valkenisse (±2,2 km) & Water playground de Meerpaal (±2,7 km).
For information:
Strand Dishoek, Dishoek