Bunker complex Dishoek - Monument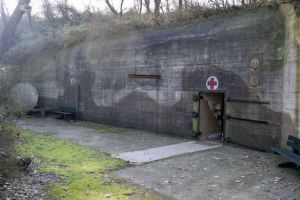 Discover a special war memorial: the bunker complex in the Zeeland dunes – part of the Atlantikwall.
Visit the unique hospital bunker, watch the soldiers live in the crew bunker and relive the fierce fighting around the ammunition bunkers through the visual stories of our guides. During the tour, the history of the Battle of the Scheldt comes to life. You hear the human side of the story through anecdotes from both parties. It exposes the drama of the war and gives a vivid picture of the fierce battle that has taken place here to liberate the Netherlands. Became curious? Then book a tour quickly.
Furthermore Bunker complex Dishoek is near the following sights: Lighthouses of Kaapduinen (±150 m), Toeristenkerk Dishoek (±300 m), Manege de Zwaanhoek (±1,1 km), Avonturenpark Valkenisse (±2,1 km) & Water playground de Meerpaal (±2,6 km).
For information:
Dishoek 23, Dishoek
web.
Website