Speeltuin Lammerenburg - Playground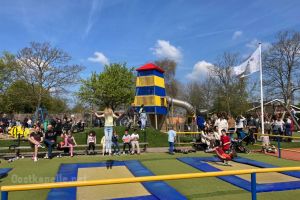 Playground Lammerenburg in Vlissingen is located in the middle of the residential areas Lammerenburg, Paauwenburg, Rosenburg, Bossenburgh and Papegaaienburg. The playground has a clear layout and a wide variety of play equipment (swings, climbing/sliding tower, family swing, cableway, trampolines, water play equipment, go-kart track, etc.).
The playground is divided into a section for small children and a section for older children. The playground offers plenty of seating facilities, and there is also the possibility of buying coffee/tea/lemonade/ice cream.
Furthermore Speeltuin Lammerenburg is near the following sights: De Kanovijver (±1,3 km), Children's Playground Ballorig (±1,7 km), Manege de Zwaanhoek (±2,0 km), DOCK Fun & Event Center (±2,0 km) & Cine City (±2,3 km).
For information:
Zuidbeekseweg 18, Vlissingen
web.
Website